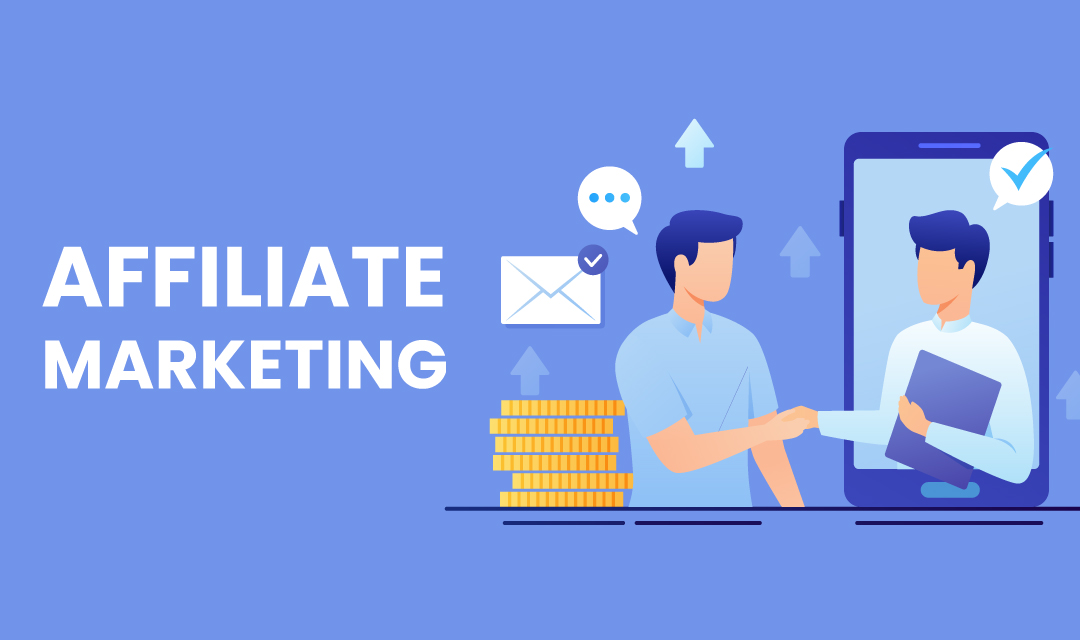 Everyone wants to be your own boss, and quit that 9 to 5 job you've been had for the last 20 years. We're living in an era where building wealth is easier than ever. You don't have to quit your full-time job to start making money online. You can start small in your spare time, build your business at your own home, and grow your income over time and finally quit your job and be your own boss. Sounds like a good idea? You came to the right place, learn affiliate marketing.
What is Affiliate Marketing?
Businesses hire sales staff to sell products and services, and salespeople make money in commission by selling products to consumers. Move this brick-and-mortar model online, and you have affiliate marketing. Affiliate marketing is the process of marketing someone else's products and earn a commission when they sell. Stores move their presence online, and customers are buying products and services online. You'll build a website and promote someone else's product by providing reviews, sharing know-how, and help consumers make the right choices in buying products.
How does Affiliate Marketing work?
Every business needs referrals, and willing to pay hefty commissions in return for sales. This model works great for online businesses as they are only paying commission when a sale occurs, and hence minimizing risks. Businesses also spend money on advertisements, in which they spend money first and hopes to make sales. If they experience low conversions, they may lose money on advertisements.
To begin affiliate marketing, you'll need a way to refer people to online stores and building a website is the perfect way to start this endeavor. The next step is to find products and services that you would like to promote. You have complete control of which products you want to promote, so pick the products that you know well and quality products that you can recommend to others. More you know about the products and more you like about the products make it easier for you to promote them.
Once you identify the products, you either become an affiliate by directly contacting the seller or through a affiliate marketing network. The vendors join affiliate marketing networks, so that they don't have to manage individual affiliates and also acquire more affiliates through the network. There are a half dozen popular affiliate networks, and they include CJ, Clickbank, Impact, Share a Sale, Amazon Associates and Rakuten Marketing (formally LinkShare). You may join one or more of those networks, and apply to become an affiliate of the brands that you would like to promote.
Once you're approved by the vendor, you will find the affiliate "product" links from the network (or vendor). You'll use that link to promote the products, and you'll begin earning money if anyone purchases the products following your affiliate links. Once a consumer clicks on the affiliate link, the click data will be stored in the user's cookie for 30-days (some offer longer periods) so you'll get paid as long as the consumer purchase the products within the 30-day period from the vendor who followed your link.
For example, let's assume that you know how to eliminate ants in the house. You'll write a blog about how ants spread, how to get rid of them, and what tools and baits to use to eliminate them. After describing the process of eliminating ants, you can recommend a few ant baits that will help eliminate them. The consumers reading your blog convinced to eliminate the ants following your tactics will click on the affiliate link, and purchase the product. You'll earn a commission from the vendor, a vendor sells the product, and the consumer eliminates ants. All parties are happy! This is affiliate marketing.
How do Affiliates get paid?
There are 3 parties involved in a successful affiliate transaction: Vendor, Publisher (you), and Consumer. The vendor works with an affiliate network to find publishers like you, and provide you with creatives you can use to promote their products. It is your job to make the product appealing to the consumers, and help them buy the products either through product reviews, comparisons, or blog posts. The consumers who trust your knowledge will follow the link and conduct business with the seller.
There are several ways how the commission is determined, and they are:
Pay per Sale: This is the most common and preferred affiliate marketing standard. As the name suggests, you get paid for product sales and get a percentage of the total sales price, or a predetermined flat fee.
Pay per Lead: Not all products are easy to sell online, and some require additional research before making a purchase decision. For example, refinancing a mortgage will require more communication and will take far more time to complete the transaction. In this case, referring a consumer to a mortgage website and ask them to complete the "Request a Quote" form will achieve your role. You'll get paid a flat fee for each referral whether the consumer refinances the mortgage or not.
Pay per Click: This is a very rare way to get paid, but some vendors are willing to pay for traffic. All you have to do is convince the consumer to visit the vendor's site through your affiliate link. You'll generally get paid by CPC (Cost per Click) or CPM (Cost per 1,000 impressions). You'll get paid by predetermined CPC or CPM based on the volume of traffic you refer to.
Benefits of becoming a Affiliate Marketer
Why would you want to be an affiliate marketer? There are a number of ways you can make money online, but affiliate marketing has the following benefits.
Low Startup Cost: Unlike online stores and professional service firms, you do not have to carry inventory to sell products, or provide customer service. You also don't have to worry about shipping out products, and working with returns. The cost of starting an affiliate marketing business is very low. You just need a website with a web hosting plan, and you're ready to move.
Work Part-Time and Work from Anywhere: You don't have to quit your job to become an affiliate marketer, and you can work from anywhere. You can start small by working part-time, and as the business grows you can own a full-time business. You can also work from home or anywhere as long as there is the Internet. You just have to create good content, share your knowledge, and earn money by helping people.
Passive Income: Once you build an established affiliate marketing website, your income will not depend on the number of hours worked. As long as you have traffic to your website, you'll earn money while you're awake and sleep. You'll continue to make money from the content you wrote a year or several years ago, and you'll enjoy digital nomad life. Earn money any time and work from anywhere.
Conclusion
There are a number of ways you can make money online, and affiliate marketing is one of the best ways to become a digital nomad. You have the flexibility to work from anywhere and anytime. Become an influencing affiliate marketer, and you'll earn passive income while you sleep.
Share this post
Leave a comment
All comments are moderated. Spammy and bot submitted comments are deleted. Please submit the comments that are helpful to others, and we'll approve your comments. A comment that includes outbound link will only be approved if the content is relevant to the topic, and has some value to our readers.